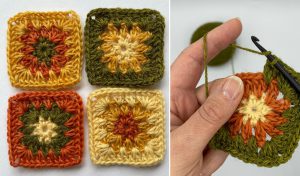 I designed this variation of a traditional granny square in order to make a sweater. Here…
Testimonials
Merrian is a great teacher and introduced me lots of new techniques and even helped me improve my basic crochet technique to get better results. Riverside Hookers quickly becomes a group of friends who all love to crochet too.
Merrian is an outstanding teacher, inspirational, fun, and teaches new skills while encouraging her students' individuality.
I have purchased many a crochet guide or project book over the years, with every intention of making my very own amigurumi to give to my young children to play with…but sadly I had never made it past the first few steps. Working from diagrams and patterns seemed to be an insurmountable hurdle, and I even tried diligently watching video clips over and over on the internet to no avail. So, having procrastinated for many years, I finally decided that I needed some in person guidance. I was so pleased when I found Merrian locally. Her patience and ability to work from your own level and guide you to the next steps makes her such an excellent teacher. I was totally inspired to work through small elements of my projects and was finally able to finish three of them in very quick succession. She also provided me with other ways to look at reading patterns in the same project and gave me further ideas to look at for myself outside of our sessions. She has encouraged me to look beyond some more basic activities and the horizon is looking a lot bigger. I look forward to working with her on my next project!
The Beginners Crochet Course was a great introduction to crocheting for a complete novice like myself. It was a lovely small group which meant that Merrian was able to give everyone individual attention. She was super patient and very enthusiatic (as well as talented!) for her craft. It was strangely addictive and I found it hard to put down my crochet needle during the week when she set little tasks to be completed in time for the next lesson. I highly recommend joining her class!
I have been going to the Riverhouse Hookers for a couple of years. We have made some amazing things, traditional and very modern. Items such as slippers, scarves, bags the list goes on. The class is very friendly and Merrian is an excellent teacher with a real passion for the subject.
I would recommend this class, it is great fun.