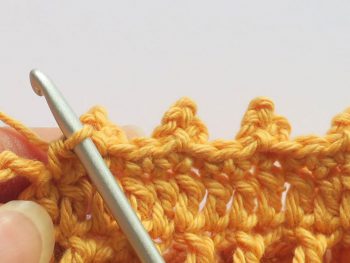 I've put together this tutorial showing you how to get the perfect picot stitch. When I first started crocheting, I struggled to get my picot stitches looking right… they didn't stand up straight and they weren't symmetrical. There are quite a few different ways to make a crochet picot stitch – you'll be especially aware of this if you have ever made Irish Crochet. Eventually, after much trial and error, I started making them the way I'll describe below – this method consistently gives me a satisfying, even, symmetrical and upright set of picots!
In the following crochet tutorial, I am adding the picot stitch trim to my "Mesh Soap Bag", which is a free pattern.
3 Single Crochet & Chain 3 Picot Stitch Pattern
This is a simple stitch pattern of 3sc, ch3 picot. In the round it's a 3 stitch repeat and worked flat it's a 3 stitch repeat + 2.
The stitch pattern looks like this, in a chart format:
If you're unfamiliar with crochet charts : the crosses are the single crochet stitches & the three loops and dot represent the chain 3 and slip stitch
Instructions
Make 3sc and then make the picot as follows: chain 3, then hold the chain at the back of the work and into the last sc made FROM THE BACK OF THE STITCH, TO THE FRONT – slip stitch, pulling the slip stitch tight before proceeding with the pattern repeat, i.e. 3sc, ch3 picot … as many times are required!
I have also made a "Perfect Crochet Picot Stitch" video tutorial, which you can find here, on my Mezzamay YouTube channel:
Project Info
Disclosure
I sometimes use affiliate links to my favourite yarns, hooks and other craft materials.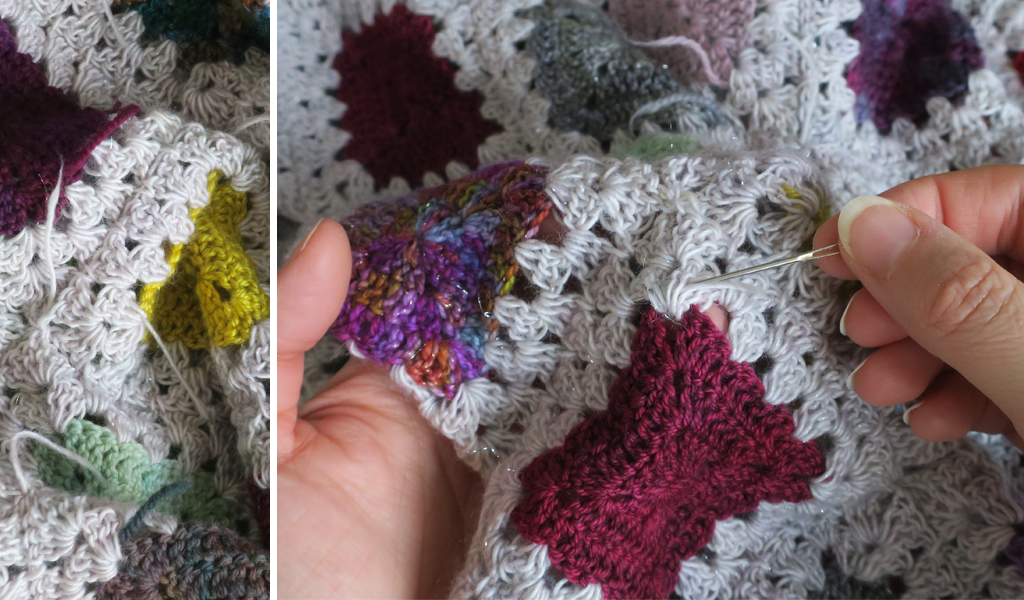 I often get asked how I weave in my ends and what is the best way to sew in ends of crocheted projects so that they don't come undone or look messy. I've put together this post to show you how I'm weaving in the ends of a project. The project features solid granny motifs and the traditional granny stitch. It also deals in particular with very short ends which can be difficult to handle. It's not a definitive guide – I'm just sharing with you how I do it.
Projects using multiple motifs are a great favourite of mine. I know other crocheters also love making motifs but are put off by all the ends that need sewing in. This is a time consuming task which is made all the more daunting when you are not really sure how to do it.
How do you make sure it's secure?
In my experience, the key to a securely hidden end is to sew in one direction, then back on itself in the opposite direction, whilst making sure a stitch is caught or sewn over so that you're not just undoing the stitch you've just made. I use a standard wool needle for knitters. It has a large eye and relatively blunt tip. Specifically, I use Pony Gold Eye Sewing Needles.
To start with, I always make the first step of securing the ends while crocheting. I.e. when I actually join the new yarn colour to the project. I do this by crocheting over the tail end for 3 or 4 stitches. Initially this doesn't seem a very secure start. Worry not, as the final sewn step keeps everything in place. This works well with solid stitch patterns and clusters but is often not possible when you're making a lacy or very open pattern. In these instances, you'll need to employ other strategies.

If you've managed to catch the end in during crocheting, you only need to sew it back on itself again. Remember to catch in or skip over the first strand so that you're not undoing the stitch.
How do you deal with very short ends?
When you have a short tail to sew in, start with the needle in the fabric/stitches where you want to sew and then thread the needle. I tend to use my thumb nail to push the yarn through the eye.


In most cases, sewing in one direction and then the other is enough to ensure the work doesn't come undone. Don't forget to skip a strand of yarn when you change direction (see second image above). However, if you're making something for a baby, or a gift or a paid commission, you may want to add an extra step. I.e. change direction and sew back again before trimming the yarn. If you've got a very short tail, carefully pull the needle through, without un-threading it. Then use the eye of the needle to sew back on itself. This technique is not advisable if your needle is sharp!

How do you ensure it looks neat?
I always try to sew the ends into a congested area of stitches, such as a corner or cluster. I find this offers the most secure spot and the tail end finds it difficult to wriggle.
Sometimes, such as here, where the corners of the four motifs join, there is no congested area to conceal a tail end. Instead I make a running stitch into the post of an adjacent stitch – here it's a double crochet, until I came to a denser area suitable for sewing into.

For both methods, I find it best to work from the back of the fabric. I check the front occasionally to make sure I haven't left any visible stitches that might blemish my work on the right side. It is also important to ensure your sewing matches the gauge of your crochet pattern. After each sewn stitch, I gently pull the fabric to make sure my weaving in isn't creating any pulls or puckering.

Lastly, I like to use a small pair of sewing scissors to CAREFULLY snip off the remaining tail end. Sadly, I have had disasters in the past. Once, coming to the last few threads, I managed to cut a hole in a project when I was rushing and excited to finish!
Project details:
This is a large wrap made using a modified version of the Blue Buoy Blanket pattern.
The pattern for the three row solid granny square can be found here.
The traditional granny stitch border an join can be found here.
Yarn is sock weight/fingering yarn from Posh Yarn …25 different hand dyed shades in total!
And here's a video.